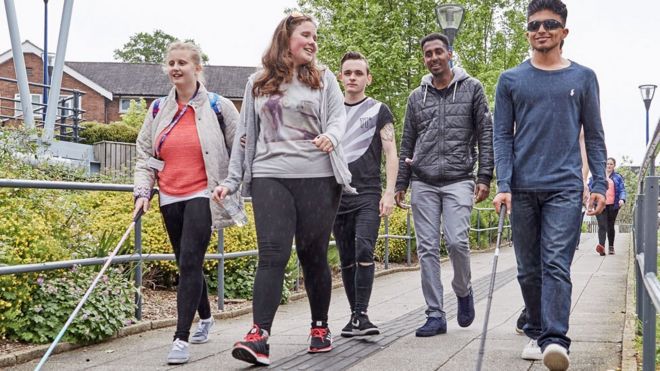 Here's an event for parents and students who are planning for college application, including middle and high students. RAH! RAH! RAH!
The National Federation of the Blind of Michigan is presenting the College Prep Pep Rally.
When: November 8, 2019
Time: 1:00pm-4:00pm
Where: Crowne Plaza Grand Rapids Airport, 5700 28th Street SE, Grand Rapids, MI 49546
Phone: (616) 957-1770
The Prep Pep Rally will be a part of our National Federation of the Blind of Michigan 50th annual state convention. If you haven't already registered, go to www.nfbmi.org/convention .
Whether you would like to "Hail to the Victors" or "Crash Right Through that Line of Blue" or become a Bronco, Eagle or a Chip, you will need to get accepted to your college or university of choice. If you are wondering what this process is like or how to compose that ever-important essay or wonder about your test scores, we have just the right Pep Rally for you!
We have arranged a power-packed list of world-class people who are uniquely able to provide you information about succeeding in college and the career of your choice.
Speakers
Buna Dahal
A motivating and rousing presentation from worldwide motivational speaker and accessibility consultant Buna Dahal. Buna is an entrepreneur who works with multi-national corporations, rehabilitation agencies and blind consumers.
James Gashel
Jim's Federation work has led to significant changes in virtually every law directly affecting blind Americans: the Social Security Act, the Rehabilitation Act, the Randolph-Sheppard Act, the Americans with Disabilities Act, the Copyright Act, the Individuals with Disabilities Education Act, and the Help America Vote Act. In addition to championing these causes, Jim has won the love and respect of the thousands of blind men and women across America who have directly benefited from his informed and effective personal advocacy.
Michael Hudson
Michael Hudson serves as Director of the Michigan State University Resource Center for Persons with Disabilities (RCPD). Michael is passionate about MSU's status as a global leader in higher education and maximizing opportunity for persons with disabilities. His intensive focus on ability, skill development, and organizational efficiency aids his quest for excellence despite his own blindness.
Members of the NFB of Michigan and the Bureau of services for Blind Persons will be on hand to help with details of accessing services. You won't find a more powerful and informed opportunity to learn the strategies and steps to the future.
You'll remember this event as a TOUCHDOWN! in your drive for the end zone and a victory to get into college and find that dream career.